About Nathan Lindstrom, Corporate Advertising and Portrait Photographer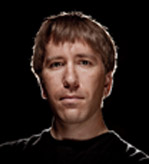 Nathan Fjord Lindstrom specializes in commercial and editorial portrait photography, including location photography for corporate and advertising clients. His work has appeared in Sports Illustrated, Texas Highways, ESPN The Magazine, and Forbes. His advertising and corporate photography has been used by ExxonMobil, Marine Well Containment Coand Thompson Reuters.
His background makes him comfortable with subjects from rural farmers to corporate executives. Nathan is known for his creative collaboration, punctuality, love of adventure and professionalism, in the studio or on location. He is fluent in Spanish.
Nathan published his first photos at age 12 while covering Independence Day celebrations for the Wellman Advance, his hometown newspaper in Iowa. After high school Nathan spent two summers working as a freelance photographer for the Iowa City Press Citizen.
His college career led to a year of study in Argentina where Nathan further developed his understanding of people, culture and vision as a photographer. During this time, Nathan attended the prestigious Eddie Adams Workshop and completed two summer internships at the Houston Chronicle while completing his bachelor's degree in Spanish at the University of Houston. His fluency in Spanish led to his first job as Spanish Publications Photo Editor at the Houston Chronicle.
His editorial background served as excellent training to be able to handle any situation in the corporate and advertising world, from tight schedules to adverse conditions to working well with a team of creative specialists. Nathan and his team can work with both small and large productions. They will deliver high quality photography on time and on budget.
Nathan manages his corporate studio from Houston, Texas, where he lives with his wife and their dog Kirby. Currently, he's the vice president of the American Society of Media Photographers, Houston Chapter. His photographs appear regularly in the bi-annual FotoFest, an international photography exhibition.
Vision
"My experiences traveling the world, learning about people and cultures, shaped who I am as a commercial photographer. I seek to understand everything I can about my subject before arriving at a shoot. That way I can maximize my client's time while shooting. My goal in creating someone's portrait is for that person to shine through and not impose myself on their image. "