Our intern, Hannah, has been doing an amazing job the last few weeks working on promo material for Nathan Lindstrom Photography. As we prepare to launch into our new marketing campaign I thought it would be the perfect opportunity to share this project we shot for Forbes Magazine Russia last year.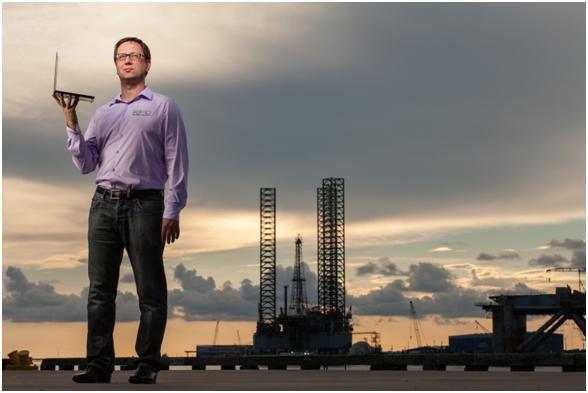 Forbes Russia ran a story on Vasilii Shelkov, the Russian born CEO of Rock Flow Dynamics, a software development company for the petroleum industry. The magazine hired me to make a portrait of the Houston-based CEO.
After visiting with Shelkov over the phone I arranged for us to meet in Galveston, an hour south of Houston. Through my former work as a photojournalist at The Houston Chronicle I knew there were offshore drilling platforms at the shipyard across the channel from the Ocean Star Offshore Drilling Rig Museum. I double-checked with the museum to make sure the pier I wanted to shoot from was public property and off we went.
My assistant and I arrived early to scout out the shot I had picked using Google maps and my knowledge of the area. We finished testing lights right as Mr. Shelkov arrived and we began shooting right as the sun descended for the perfect light. Vasilii, as he quickly asked me to call him, gave us far more time than I hoped to get from a CEO. We had a wonderful shoot and ended up eating at a local restaurant before we all drove back to Houston.
Here's the spread that ran in Russia and a few outtakes from the shoot: